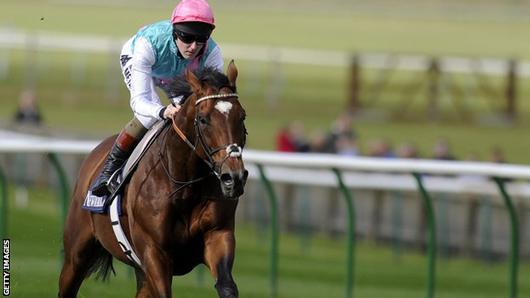 While Canada's horse racing world is facing perhaps the greatest crisis of it's history, in England they are celebrating the remarkable achievements of a racehorse with the unlikely name of Frankel.
Unbeaten in 13 starts, many consider Frankel the world's greatest racehorse. Appraised at over $150 million dollars and owned by Prince Khalid Abdullah, he is undoubtedly the most valuable horse on the planet today. You will be able to breed your broodmare to him for a stud fee in the range of $150,000 once he retires.
He even has his own iphone cover, with proceeds benefitting the Injured Jockeys Fund.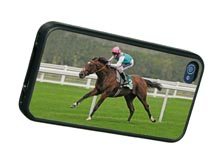 Unbeaten in 13 starts, the four-year-old stallion will be racing for his 14th time tomorrow at the QIPCO British Champions Day at Ascot, England. In all probability it be his last race.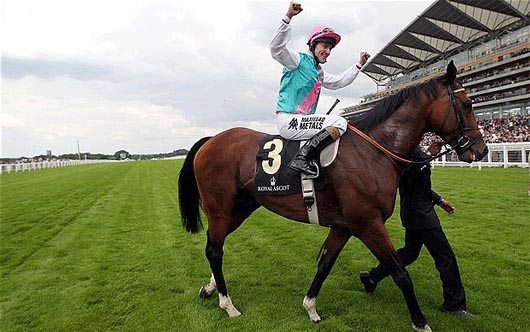 Just for fun, and courtesy of Horse and Hound, here's 8 interesting facts about Frankel.
The first of Frankel's 13 victories was on Friday 13th — in August 2010.
His trainer Sir Henry Cecil is superstitious — he salutes single magpies, flies the family flag every time he has a Group One winner and used to fill up with petrol every time he went to the races.
The horse's four white feet defy the old horse dealers' proverb which advises "four white feet, go home without him."
His star sign is Aquarius as he was born on 11 February. Apparently Aquarians are "trailblazers who don't follow the crowd."
He's brought only bad luck to bookmakers having started favourite in all 13 of his races. In the last 12 Frankel has started at odds-on.
Half a length is the nearest any other horse has got near him in his 13 winning races — while his greatest winning distance has been 13 lengths.
Tom Queally, Frankel's regular jockey, rode his first winner on 13 April 2000.
Frankel's reputation tends to scare off the opposition. In the second race of his career, he faced just two other runners and the average number of runners in his race has been seven. The largest field was for the 2011 2000 Guineas when 13 horses went to post.
I didn't have a chance to, but if you search out the BBC Sports channel, you might be lucky enough to track down a live feed of the race. In the meantime, here's a spine-tingling video of his memorable moments.