2013 Embrace Your West Photo Contest
Grab your camera and partner with us to unfold the real WEST! Western Horse Review is kicking off its inaugural western photography competition. This photo contest is all about appreciating the richness of our Canadian idea of living in the western way, recognizing its authenticity and celebrating how it enriches all of our lives. We are looking for images that relay our great culture.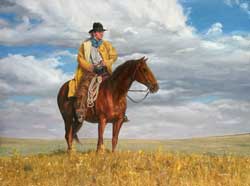 We can't wait to see the best of what you have to show us, so pick up your camera, set out into the great country that we are proud to call home and start shooting the things we love the most – the people, horses, landscape and events that inspire and enthrall us.
Send in your best and you might be hanging the grand prize for Overall Best Photo on your wall – a one and only Doug Levitt original oil painting.
CATEGORIES
Landscape
Capture the great country we live in and show us what makes this land uniquely our own.
Human Portrait
We want to see the characters that live among us and drive the western culture that we love.
Equine
Humans have an innate connection to the horse. Capture their essence, their spirit, their electricity with passion and insight.
Action
Rodeos to wagon races, cuttings to mounted shootings, show horse lovers employing their horses in endless tasks of excitement and passion.
PRIZES
One (1) winner per category will be selected. The winning entry and runners-up will be published in the September / October issue of Western Horse Review. In addition, one (1) entry will be selected as Overall Best Photo and one (1) entry will be selected as the cover image.
Overall Best Photo will be awarded the Doug Levitt original oil painting.
DEADLINE
All images must be received no later than July 12, 2013.
RULES AND REGULATIONS
? NO PURCHASE NECESSARY ?
ELIGIBILITY – The contest is open to all photographers, professional or amateur. Employees and families of Western Horse Review are not eligible for this contest.
QUALITY – Images to be submitted in jpeg form at 300dpi resolution.
QUANTITY – Entries will be limited to 1 submission per entrant, per category.
CONTACT INFORMATION – Image must be submitted with entrants full name, address, phone number and email address in order to be considered for judging.
TITLE AND DESCRIPTION – Each photo to be submitted with a title, and optionally 50 word or less description.
EDITING – Western Horse Review reserves the right to edit and / or crop any images considered for print.
FORMAT – Photos must be submitted at 300dpi resolution, at least 4×6 inches in size and may or may not be altered in lighting, composition and colour processing.
LIMITATIONS – Images are to represent Canadian content, events, horses, people and landscapes, photographed by a Canadian resident.
MODEL RELEASE – For any image where a person is recognizable, a signed model release from the subject or, in the case of a minor, from the subject's parent or guardian must be provided at the time of entry. For your convenience, here is a link to a downloadable model release: http://www.mcpactions.com/blog/2012/08/27/free-model-release-form/. Please e-mail this release under separate cover to [email protected], noting the name of the photographer, and the title of the photo it pertains to.
RIGHTS AND USAGE – By entering the contest and for valuable consideration, including but not limited to credited publication, the receipt and sufficiency of which are hereby acknowledged, entrants grant Western Horse Review the right to publish and use submitted photographs without prior approval or compensation beyond the terms of the contest, in print or electronic form in any future issue or issues of the magazine, event booths, or under our digital or social media banners, including but not limited to www.westernhorsereview.com, Facebook, Twitter and Pinterest, for advertising and promotion of the magazine, for exhibition, on the website, and for commercial products, including but not limited to Western Horse Review promotional items and media kits.
INDEMNIFICATION – The entrant agrees to indemnify and hold harmless Western Horse Review against any claim, demand, lawsuit, or proceeding that might be brought against Western Horse Review by reason of any of the following matters regarding the image or video:
a) any violation or infringement of any proprietary right or copyright;
b) any libelous or unlawful matter contained in the image or video;
c) any invasion of the rights of privacy or other personal rights possessed by any person or entity, including illegal trespass by the entrant while obtaining the image or video;
d) the entrant's breach of any term, covenant, representation, or warranty of this agreement;
e) anything whatsoever that might prejudice the securing to Western Horse Review or its assigns of the full benefit of the rights granted herein.
In the event of any legal proceeding relating to the submitted image, the entrant agrees to fully cooperate with Western Horse Review and its counsel in the defense thereof.
JUDGING – Images will be judged by a team appointed by Western Horse Review editors. Winners and finalists will be notified on or before August 15, 2013.
TIME LIMITATION – Images must have been shot between January 1, 2012 and the entry deadline.
AGREEMENT – These rules and regulations contain the full and complete understanding of entrant and Western Horse Review with regard to participation in the 2013 Embrace Your West Photo Contest, superseding all prior agreements and understandings, whether oral or written. By submitting any image or video to the 2013 Embrace Your West Photo Contest, the entrant agrees to all of the terms of the rules and regulations set forth herein.