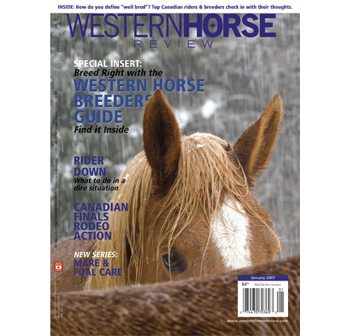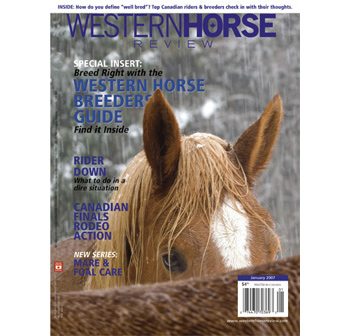 BACK ISSUES January 2007
SPECIAL INSERT: Western Horse Review's Breeder Guide
Western Horse Breeders Guide Our third annual edition of the Western Horse Breeder's Guide. We take you inside some of the latest innovative breeding concepts and give you suggestions for increasing shipped semen efficiency. Breed right with our guide!
Rider Down
Would you know what to do in the face of a rider accident? Read these true-to-life examples along with plans of actions, to help you deal with an emergency.
CFR Action
Catch up on rodeo highlights with our exclusive interviews with the leaders of the 2006 Canadian Finals Rodeo action and pay homage to your new champions.
Horse Logging Renaissance
Traditional work horses forge themselves a modern use in today's logging industry.