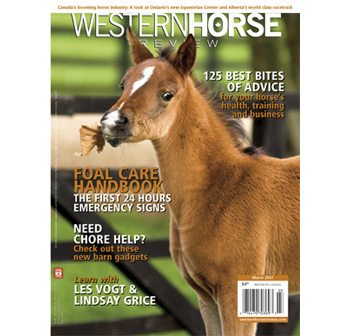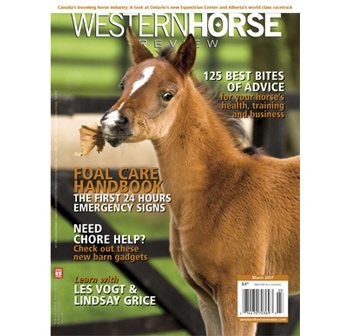 Foal Care Handbook
Writer, Susan Kauffmann, provides a timeline of the foaling process and the following 24 hours. Read about some of the difficulties a mare can face during labour in her explanation of difficult passages. Then, take note of helpful signs for recognizing dystocia at the earliest onset.
125 Best Conference Bites
Expert insight and news you can use from the 25th anniversary rendition of the Alberta Horse Owners and Breeders Conference.
A Serious Focus on Fun
Our March breeder profile features Ontario's Stone Ridge Farm. Zeroing in on patience, practice and pure enjoyment of the horse makes this full-time operation a recipe for success.
20 Things You Didn't Know About Competitive Trail
From a "cloud" stirrup, to pin flagging, to knowing when the rider can take a biffy break, this light look at competitive trail riding details the hows and whys of this addictive equine sport.