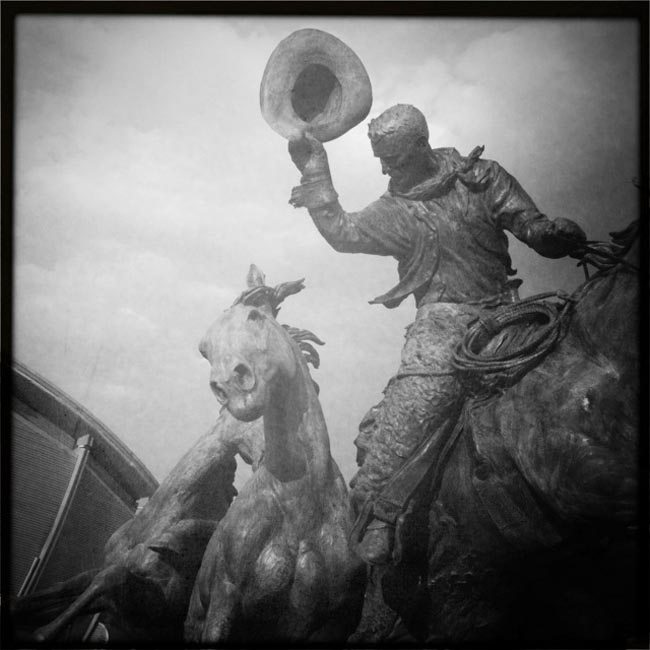 This is entirely borrowed from Seth Godin, a daily blog I've been following for a while now. I thought this older post was particularly adaptable to the horse industry.
P.S. – the photo is entirely mine, taken with my ultimate iphone camera app, the Hipstamatic and shot on a stormy evening at last year's Calgary Stampede. The subject is the gorgeous new bronze on the grounds.
On Making a Ruckus in Your Industry
Bring forward a new idea or technology that disrupts and demands a response.
Change pricing dramatically.
Redefine a service as
a product (or vice versa).
Organize the disorganized,
connect the disconnected.
Alter the speed to market radically.
Change
the infrastructure, the rules or the flow of information.
Give away what used to be expensive and charge for something else.
Cater to the weird, bypassing the masses.
Take the lead on ethics.
(Or, you could just wait for someone to tell you what they want you to do)
We're setting up the tree this weekend at the log house, so it's all about tree and gift ornaments.
Wee, Teenager and I have used a particular recipe for ornaments – from a 2003 Martha Stewart issue – several times over the years. It's a simple afternoon project. Or, in the case of Western Horse Review Managing Editor, Dainya Sapergia, who was tasked with creating a few western-styled examples for our Christmas photo shoot – a 1:00 a.m.-night-before-the-shoot project.
It's how we occasionally roll here.
The western cookie cutters I mentioned in my 3 Weeks 'till Christmas post would work really well for this application.
Simply mix together one cup of cinnamon and 1/4 cup applesauce. Then stir in 1/2 cup white craft glue. Roll it together, let it sit for an hour, and then roll it out about 1/4 inch thick, cut out your ornaments (remember to poke a hole with a straw for hanging it) and bake them in the oven at 200° for about 2 hours, flipping once to keep them flat.
Once they are cool and dry, you can decorate them with glitter sand or whatever you choose. Here's the link to the original Martha Stewart recipe for Cinnamon Bird Ornaments, there is a full step-by-step included and a few Martha-perfected decorating tips.
Caveat: to avoid any emergency trips to the dentist or emergency room, remember to let your family know these are inedible ornaments!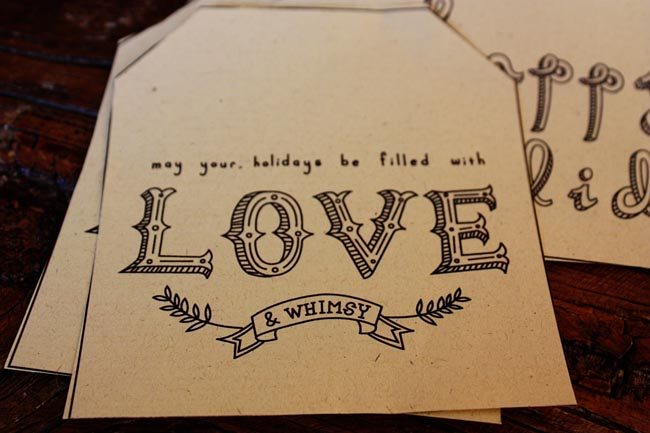 Finally, if you're looking for a few homemade gift tag ideas, I love the selection at www.eatdrinkchic.com, particularly these vintage typographic beauties.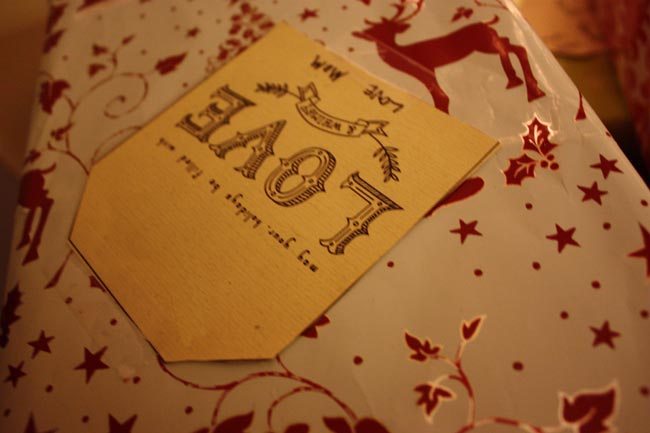 Simple download the template from this post, and print them out. I used a few textured, sandy old letterhead sheets I had hanging around. Pretty!
Happy decorating!
P.S. If you haven't yet, be sure to take part in our Grand Christmas Giveaway and treat yourself to the opportunity to win a gorgeous handcrafted belt by Paige Albrect. It's a good thing, as Martha would say.
I recently received this press release which I'm happy to share this morning; just another great gift idea.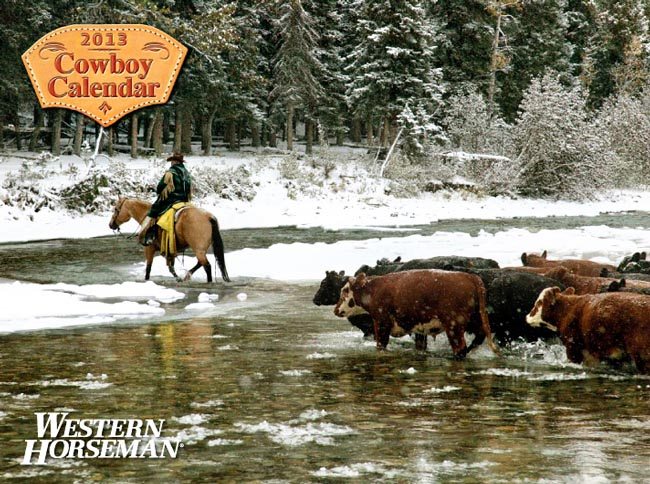 Two Southern Alberta artists–photographer Kim Taylor and western poet Doris Daley, are featured in the 2013 iconic Western Horseman cowboy calendar. And it turned out to be a surprise that the two friends, who are practically neighbours in the southern Alberta foothills, were working with each other on the project and didn't even know it. Kim lives just outside of Bragg Creek and Doris resides in Turner Valley.
Taylor, recognized for photographic art that captures the life of a rancher and the work of the cowboy, is well known for her annual Western Planner and Calendar. Daley is well known in western circles for her award-winning cowboy poetry.
"Six months ago I was commissioned by Western Horseman to write a piece for next year's calendar. They sent me a photo and asked me to write whatever came to mind.  Of course they told me the photographer's name…but I didn't recognize it." (Erroneously, in the exchange of emails, it turned  out to be the name of the calendar's illustrator.)
"Imagine my surprise when I saw the finished calendar and realized I had actually been writing to one of Kim's photos!" said Daley. "And imagine my surprise," adds Taylor, "when Doris emailed to say  Congratulations–your photos are on the front and the inside cover of the calendar!"  Until then, Taylor hadn't yet heard from Western Horseman headquarters that her photo submissions had been chosen for the project.
Taylor's photo of Tom Bews leading yearlings across the Highwood River near Longview is the calendar front cover. Daley's poem, Unhobbled, matches Taylor's inside cover photo of a slicker-clad cowboy and his horse on the rainy Saskatchewan prairie.
Both Kim and Doris have the calendars for sale and of course, it is also available at the Western Horseman online store.