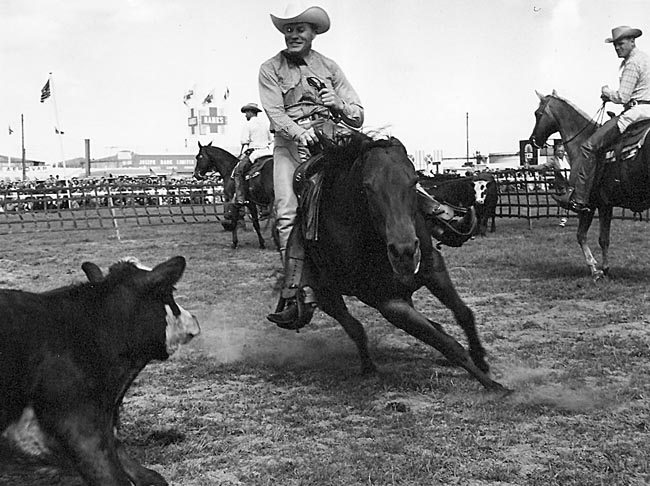 I was cobbling together a piece for the next issue when I came across this vintage photo. Bill Collins on Bonita Tivio, circa 1964 during the Royal Cutting Horse Tour of England. Bill looks a little like he might be having the time of his life, doesn't he?
This excursion of a lifetime all came about in the summer of 1963, when Prince Philip visited the Douglas Lake Ranch in British Columbia, and someone had the fabulous idea to put him on the back of a cutting horse. The Prince, an accomplished horseman, naturally caught the cutting bug and upon leaving invited the group to England the following summer for a six-week tour of 17 horse shows. And so it was that on an early morning in May of 1964, as unlikely as it may seem, six Canadian cutting horses and their owners, travelled by rail to Montreal, and a few days later took to the skies on a flight bound for Manchester, England.
The horses in this group were Bonita Tivio, Silver Sport, Poco Dipsy, Muy Bueno Young, Tivio Don and Bueno Jesse. Two of these, Bonita Tivio and Tivio Don were full siblings, by Poco Tivio and out of the dam Pepper Girl. Owned by Douglas Lake Ranch, they comprised some of the foundation stock of the Canadian cutting horse industry, and both left a legacy with inductions into the Canadian Cutting Horse Hall of Fame in the late 60s.
Bonita Tivio, pictured above, went on to produce some outstanding cutting horses, including most famously, the great Peponita, later owned and shown to NCHA Hall of Fame status by Matlock Rose. Bill finished off each cutting during the Royal Tour with a bridleless demonstration aboard the phenomenal mare.
Her full brother, Tivio Don was named the top scoring horse over the three month England tour and presented with the Prince Philip trophy, by His Highness himself, after the show. I wonder where that trophy resides today?
Other cutters who enjoyed this trip alongside Bill included Fred Duke, Bill Elliott, Tom Fox, Chunky Woodward, Don MacKay, Cliff Ross, Hu Harries, Hales Ross, Ian MacRae, Barry Fox, Lyall Roper, Denny Mighall, John Ross and Hal Yerxa.
I read an account of the trip penned by Denny Mighall, in which he told of presenting Prince Philip with his own cutting-bred Quarter Horse.
Denny wrote, "This was a very well bred three-year-old, purchased from the Douglas Lake Cattle Co., ostensibly for his use as a polo pony. We learned later that this plan did not materialize as this filly became a favored saddle horse of the Queen."
He followed up this story with a quip only a male would make, stating, "apparently, these things happen in Royal families too."